TCAF 2014 Recap!
I'm back from the Toronto Comic Arts Festival, which is one of my favorite events of the year, and this year was particularly amazing for me!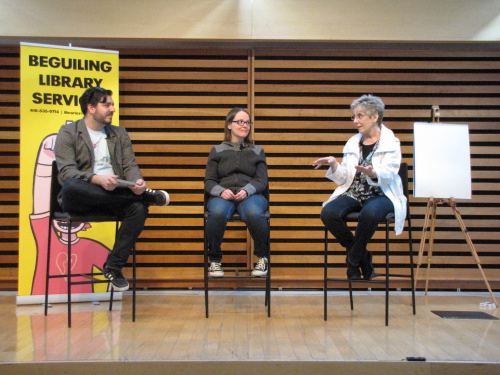 The first thing I did was appear on a panel with my cartooning idol, Lynn Johnston, creator of For Better or For Worse! My good friend Scott Robins hosted a panel about library visits with the two of us, and it was a lot of fun! Lynn is a HAM!
Then later that night, *I* had the honor of interviewing Lynn and Kate Beaton, of Hark! A Vagrant fame. These women are two of Canada's guiding lights of cartooning, albeit from different generations...and I was given the challenge of finding their common ground, on stage, in front of 450 people!
Luckily, you could not ask for two more gracious, generous, and funny ladies to share a stage with. I was on cloud 9 all weekend, after this event! (Again: check out that hamminess!)
And then, TCAF itself! Two days of festival goodness. I met some wonderful fans and a lot of new friends this year.
Here's YA author extraordinaire Rainbow Rowell sitting at our table, pretending to be Dave while he was off on a panel--I got to know Rainbow this weekend, and she is awesome, and I can't wait til her graphic novel with Faith Erin Hicks comes out in a few years!
I also got to see a bunch of my amazing friends this year, who came from all corners of the world (Hawaii! Florida! the UK!) to go to TCAF. It's really one of the best international comics festivals I've ever been to. I know I have a lot of fans in Ontario, and I'm super grateful how many of you came out to see me this year! It's just a big sloppy love fest, and I always go home happy.
Monday after the show, Kazu Kibuishi (creator of the Amulet series) and I got to visit the Scholastic Canada offices and hang out with some of the excellent staff there! Kazu and I will be touring North America together later this year together in support of Sisters and Amulet 6, which both hit stores August 26th... Stay tuned for more details!
Thanks to the TCAF staff and everyone in Toronto who made our weekend a memorable one!
Photo credits: Jamie Coville, Dave Roman