Happy Holidays! Items in the Store.
With the holiday season officially in gear, I wanted to let you guys know about some neat items in my web store! If you're looking for a unique gift, may I suggest a page of original comic art from my books--signed, sealed, and ready for framing! I've got hundreds of original pages of artwork from the BSC Graphix series available. Each page is on 11" x 14" Bristol board, created with blue colored pencil, graphite pencil, and India ink. Each page will be signed. If you'd like me to write anything extra, like a dedication or a "To...", please let me know. I ship all pages flat, packed in cardboard, via Ground rate. (And yes, I take international orders!) I only accept PayPal for payments. You must submit your order by December 14, 2012 in order to ship in time for Christmas.
You have two options for page purchases:
OPTION 1:
Specially-priced, NON-REQUEST pages. You get to choose the book, but I get to choose the page - for a flat rate of $30 USD, plus shipping. These are still full-sized, published, original pages of art. It might not be your favorite page, or the most exciting page. It might not have all of the main characters on it (but I promise it will have at least one!). But since you get to choose which book your page comes from, you get to narrow down your options a tiny bit! Either way, it's a surprise! These are quick and easy to purchase, using the PayPal button below.
Specially-priced, Non-Request Pages - $30 USD, Plus shipping:
OPTION 2:
If you're interested in a specific page, you can email me directly (goRaina@gmail.com) with your request. Typically, these pages range from $50 - $150 (most are in the $60 - $80 range). If the page is still available, I will let you know the price. Discounts always given if you buy two pages or more! I accept payments via PayPal. Please note that I am NOT selling pages from Smile or Drama. The only pages available at this time are those included in The Baby-sitters Club graphic novels: Kristy's Great Idea, The Truth About Stacey, Mary Anne Saves the Day, and Claudia and Mean Janine. Thank you!
For every page of art sold through my website, I will make a $5 donation to First Book, which provides brand new books to children in need. On all page orders made between now and December 14, I will also donate $5 to the Red Cross in support of Hurricane Sandy victims.
And don't forget, I have SMILE t-shirts available in the store as well!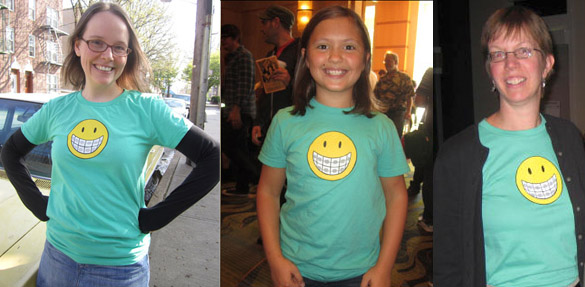 Hope you all have a happy, healthy, safe and warm holiday season!