Brain Burps About Books Interview!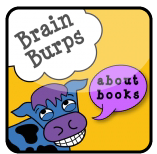 I recently recorded a fun podcast interview with Katie Davis, the boundlessly energetic children's book author, illustrator, and host of the excellent podcast Brain Burps About Books.
BBAB covers every aspect of the kidlit world. Writing, drawing, publishing, agents, fans, websites, publicity, book trailers--Dave and I became big fans this past spring as we were hunched over our drawing boards day after day. We've learned a lot from Katie, and we've become friends since then, too! If you're at all interested in the wide world of children's book publishing, you should dig through her archives and feed your head.