My Husband's New Book & Book Launch Party!
My husband, Dave Roman, has a new kids' graphic novel coming out in a few weeks: Astronaut Academy: Zero Gravity! It will be released on Tuesday, June 7, 2011--you can pre-order it from Amazon now, or get it at your favorite book or comic shop starting June 7! And of course, we're planning a celebratory event:
ASTRONAUT ACADEMY BOOK LAUNCH PARTY!!
At Bergen Street Comics 470 Bergen St. Between Flatbush & 5th Avenues, Brooklyn, NY Saturday, June 11 3:00pm - 10:00pm
If you're in the New York City area, come by and join us for an afternoon and evening of fun!
There will be a Comics-Making Workshop from 3 - 4 PM, a Kids Party from 4 - 6 PM, and an Adult Party at 8 PM! All ages are welcome anytime. Join us for snacks, live readings, contests, spacey music and videos, drinks, and merriment! Bring your kids, bring your friends, bring yourself!
Kids Comic Workshop 3:00 – 4:00 PM Make your own comics!
Kids Comic Party 4:00 – 6:00 PM Live readings, snacks!
General Party 8:00 PM Bubbly drinks, snacks, prizes!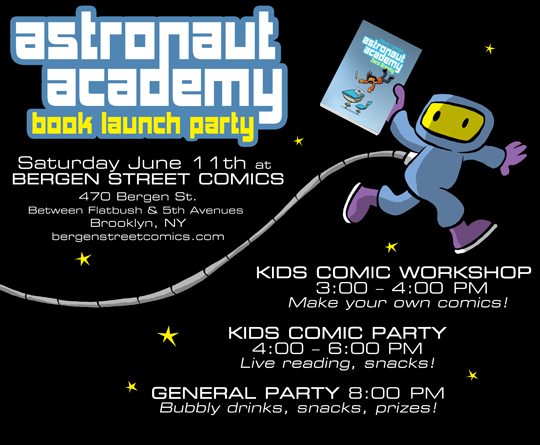 Until then: Watch the OFFICIAL ASTRONAUT ACADEMY book trailer!
Want to help spread the word? There's a Facebook Event Page (where you can RSVP), as well as an AA:ZA Fan Page!
Hope to see you on June 11!