Baby-sitters Club ORIGINAL PAGES FOR SALE
I've got hundreds of original pages of artwork from the BSC Graphix series, and you can own one if you like! Typically, the pages range from $50 - $150 (most are in the $60 - $80 range). If you're interested in a specific page, you can email me directly with your request. If the page is still available, I will let you know the price. Discounts always given if you buy two pages or more!
Each page is on 11" x 14" Bristol board, created with blue colored pencil, graphite pencil, and India ink. Each page will be signed. If you'd like me to write anything extra, like a dedication or a "To...", please let me know. I ship all pages flat, packed in cardboard, via Ground rate. (And yes, I take international orders!) I prefer PayPal for payments.
For every page of art sold through my website, I will make a $5 donation to First Book, which provides brand new books to children in need.
Specially-Priced, NON-REQUEST Pages
Also available at a special price are NON-REQUEST pages. You get to choose the book, but I get to choose the page - for a flat rate of $30 USD, plus shipping. These are still full-sized, published, original pages. It might not be your favorite page, or the most exciting page. It might not have all of the main characters on it (but I promise it will have at least one!). But since you get to choose which book your page comes from, you get to narrow down your options a tiny bit! Either way, it's a surprise! These are quick and easy to purchase, using the PayPal button below.
Specially-priced, Non-Request Pages - $30 USD, Plus shipping:
«-- This is how they look framed, next to a very small and cute person!
READ EVERY DAY Poster
This poster was created for Scholastic's Read Every Day. Lead a Better Life. campaign. I was one of 12 Scholastic illustrators invited to design a poster based on the theme, and the finished poster is available for sale!

BUY NOW FROM THE SCHOLASTIC WEBSITE


SMILE T-shirts
Back by popular request! SMILE T-shirts are screenprinted on soft, 100% cotton mint green American Apparel shirts, with metallic silver ink for the braces! The photos below show off the LADIES/KIDS shirts: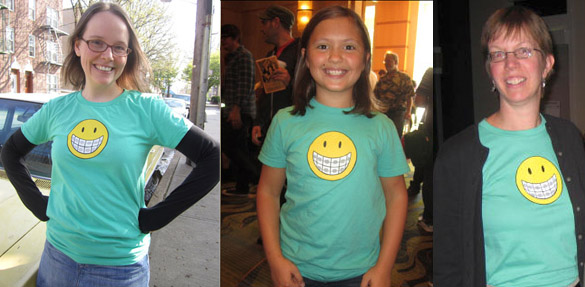 Shirts are temporarily out of stock!